Vaillancourt Folk Art to Celebrate Christmas Year Round With Brand Relaunch
Tuesday, January 30, 2018
GoLocalWorcester Business Team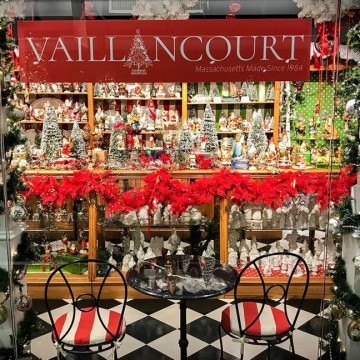 Sutton's Vaillancourt Folk Art is celebrating heir "Made in Massachusetts" legacy by re-opening the retail gallery to celebrate Christmas year round.
This relaunch comes as Vaillancourt updates their branding to focus just on Christmas.
"When we opened nearly 35 years ago, it was during the bicentennial when Americana and Folk Art was all the rage. Our focus then was wholesale and trade shows. Judi, along with family and friends, would make furniture, folk art paintings, and our chalkware before loading it in a truck and selling them at retail shows not dissimilar to 'craft fairs' of today," said Gary Vaillancourt who founded Vaillancourt Folk Art with his wife Judi in 1984.
The relaunch will start on March 1, 2018.
Gallery Relaunch
When the retail gallery completes their annual after-Christmas closure for inventorying product and "re-grouping" it will re-open with more Christmas than usual for the off-season.
"When a guest walks into our store during Christmas, their eyes widen. The decorations, the music, the atmosphere, it's a wonderful diversion from the world around us. There is no reason that this feeling shouldn't be available every day for those who still want to 'believe," said Judi Vaillancourt.
Vaillancourt Folk Art is located at the Manchaug Mills at 9 Main Street in Sutton, MA and is open seven days a week with extended hours that start Black Friday and last through Christmas Eve.