Chef Walter's Flavors + Knowledge: Pumpkin Soup with Pumpkin Seed Bread
Wednesday, January 17, 2018
Master Chef Walter Potenza, GoLocalWorcester Food Expert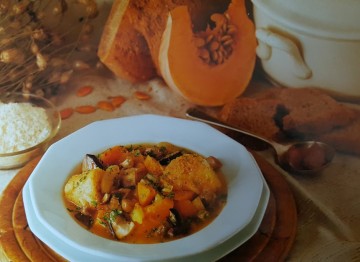 Serves 4
In the United States, pumpkins go hand in hand with the fall holidays of Halloween and Thanksgiving, but I think they can be enjoyed in different winter's moths in a variety of ways. This nutritious and versatile plant features flowers, seeds and flesh that are edible and rich in vitamins. Pumpkin is used to make soups, desserts and breads, and many Americans include pumpkin pies as a featured holiday dessert. In this soup, mushrooms may also be added for extra texture.
Ingredients
For the pumpkin seed bread
¾ ounces fresh yeast
1pound and 2 ounces strong flour
½ ounces salt
½ ounces caster sugar
2 ounces olive oil, plus extra for greasing
9 ounces warm water
5½ ounces pumpkin seeds
For the soup
2 tablespoons olive oil
1 onion, finely diced
2 pounds and 4 ounces pumpkin, peeled and cut into 1cm/½ in cubes
2 garlic cloves, finely chopped
2-1/2 cups fresh chicken stock
1 lime, juice only
1 cup double (heavy whipping) cream
Salt and freshly ground black pepper
4 tablespoons extra virgin olive oil, to serve
2 tablespoons coriander cress
Directions
For the pumpkin seed bread, grease the insides of six small, very well cleaned clay flower pots. (Alternatively use a large loaf tin and bake the bread for longer.)
In a bowl, or a food processor with dough hook attached, mix together the yeast, flour, salt, sugar and oil until well combined.
Gradually add the warm water, a tablespoon at a time, until the mixture comes together as soft dough. (You may not need all of the water.)
Add the pumpkin seeds and knead gently for 5-8 minutes, or until the seeds are combined and the dough is smooth and elastic.
Place the dough into the prepared flower pots, cover with a clean tea towel and set aside in a warm place to prove for 1-1 ½ hours.
Preheat the oven to 190C/375F/Gas 6.
When the dough has proved, transfer to the oven and bake for 20-25 minutes, or until the bread has risen and is golden-brown. (The bread is cooked through when it sounds hollow when tapped firmly on the base.)
For the soup: heats a frying pan until hot, then add the oil, onion and pumpkin and fry for 1-2 minutes.
Add the garlic and cook for another minute, then add the stock and bring to the boil. Simmer for about 5-6 minutes, or until the squash is tender.
Pour into a blender and blend to a fine purée (do this is batches if necessary).
Place the soup back into a clean saucepan and add the lime juice and cream, then season with salt and freshly ground black pepper. Return to the heat to warm through.
To serve, ladle the soup into soup plates and drizzle over a little extra virgin olive oil and a scattering of cress. Serve immediately with the pumpkin seed bread.
Master Chef Walter Potenza is the owner of Potenza Ristorante in Cranston, Chef Walters Cooking School and Chef Walters Fine Foods. His fields of expertise include Italian Regional Cooking, Historical Cooking from the Roman Empire to the Unification of Italy, Sephardic Jewish Italian Cooking, Terracotta Cooking, Diabetes and Celiac. Recipient of National and International accolades, awarded by the Italian Government as Ambassador of Italian Gastronomy in the World. Currently on ABC6 with Cooking Show "Eat Well." Check out the Chef's website and blog
Frozen Yogurt

Where: WooBerry

Address: 141 Highland Street

WooBerry is locally owned and is the home to 19 delicious flavors of frozen yogurt. This place is the epitome of everything that is right in this world - delicious and low in calories.

WooBerry is one of the few actual places on this list where you can't go wrong with anything you get. Don't forget about the literally millions of toppings to choose from (not literally).

Ravioli Roma Burger

Where: Brew City

Address: 104 Shrewsbury Street

One of many Shrewsbury Street restuarants on this list, Brew City is known for its great burgers. In our opinion, there's none better than the Ravioli Roma.

The Raviola Roma is a black angus burger with a giant five-cheese filled fried ravioli topped with marinara sauce and provolone cheese.

In a nutshell, it's a lot of great cheese.

Photo Credit: Thao L. - Yelp

Roast Beef Sandwich

Where: New England Roast Beef

Address: 33 Park Avenue, Worcester

The best roast beef sandwich in Worcester is, of course, found at New England Roast Beef (It should be though, right?).

The "Super Beef" comes loaded with roast beef and on an onion roll.

The beer battered fries and onion rings are nice addition to the sandwich.

Fried Pickles

Where: Smokestack Urban BBQ

Address: 139 Green Street

When Smokestack opened up, the fried pickles were like an exotic fruit in this city. And let's be honest, that really hasn't changed.

If you think of fried pickles, you think think of Smokestack. And we always think of fried pickles.

Salty and delicious with a special sauce (We tried to make our own at home, it wasn't the same), fried pickles are an absolute must.

Chinese Food

Where: Dragon Dynasty

Address: 104 Highland Street

Like WooBerry (also on Highland Street, weird) we suggest everything on the Dragon Dynasty menu.

Unless you're allergic to something on the menu, you can't go wrong.

Recommendations: Szechuan Chicken, and Kung Pao Shrimp.

Do your family a favor, pick-up some Chinese food at Dragon Dynasty tonight and let's go crazy and grab some Fro-Yo down the street at WooBerry.

GoLocalWorcester = Your Saturday Night solved.

Image: Amber S. - Yelp

Donuts

Where: Boston Donuts

Address: 338 Park Avenue

If this were a list of the 25 best things to drink in Worcester before you die, Boston Donuts coffee would be at the top of the list.

But we're talking donuts here. With 40 flavors of donuts made fresh daily, Boston Donuts is above and beyond the best place to get your donut fix in the Woo.

Recommendations: Jelly Sticks, Reese's

Lobster

Where: The Sole Proprieter

Address: 118 Highland Street

Nothing like following up donuts with some fresh lobster. But that's what we're doing.

The freshest seafood in arguably the best restuarant in the city, the Sole's lobster is the best lobster you can find in Worcester County. Maybe even in the whole state of Massachusetts.

Splurge for the New England Lobster Bake. You can't go wrong.

Cannoli

Where: Wholly Cannoli

Address: 490 Grafton Street

Sticking lobster in between two desserts is crazy.

A cannoli from Wholly Cannoli = the event of the year...for your mouth.

With 44 cannoli flavors, how can you go wrong?

Meatball Sandwich

Where: Vincent's

Address: 49 Suffolk Street

Vincent's Meatball Sandwich is the stuff of legend. It's just about the only thing Vincent's serves, but when you try one, you won't want anything else.

There's no website, but here are the hours in case you have a hankering.

Monday-Saturday 11:30 a.m.- 2 a.m., Sunday 1:00 p.m. - 2 a.m.

Italian Sandwich

Where: Regatta Deli

Address: 28 Lake Avenue

This sandwich is absolutely loaded with meat on delicous Italian bread.

It's enormous and it's only $5.00.

Genoa Salami, Imported Ham, Provolone Cheese, lettuce, tomato, onion and Regatta's dressing on their famous half loaf Italian bread.

A member of GoLocal's 10 Things You Must Do in Worcester Before You Die, we wrote, "A Worcester classic. If you plan on catching the Regatta Races this summer on Lake Quinsigamond, plan on working up an appetite. Lucky for you, right across the street is the Regatta Deli where they serve their famous Regatta Italian grinders."

Sushi

Where: Baba Sushi

Address: 309 Park Ave, Worcester

The highly acclaimed Baba Restaurant & Sushi Bar has been winning awards for over seven years.

And rightfully so.

Ask anyone in Worcester where you can find the best sushi, and again and again, the answer is always "Baba."

If great Sushi isn't enough to bring you in for a taste, perhaps you'll be interested in the weekly Sushi making classes Baba offers every Sunday.

Meatballs

Where: Parkway Diner

Address: 148 Shrewsbury Street

Parkway's meatballs are what make their sandwiches and entrees perfect. They're homemade and it has been the same recipe for many years now.

The best part? You can get a meatball sandwich for breakfast if you want. Or a meatball omelette.

Cupcakes

Where: Sweet Restaurant & Bar

Address: 72 Shrewsbury Street

It's everyone's (our) dream come true - a bar filled with cupcakes and desserts.

Everything at Sweet is made from scratch, including it's famous award-winning cupcakes.

Indulge yourself - it is well worth the trip.

Nachos

Where: The Banner

Address: 112 Green Street

There isn't a bigger serving of nachos in the whole city. The Banner calls these nachos "a mountain" topped with cheese, jalapenos, olives and onions. And they aren't kidding.

Pizza

Where: The Wonder Bar

Address: 121 Shrewsbury Street

One of GoLocalWorcester's 15 to Watch in 2015, the Wonder Bar re-opened this summer under new ownership and successfully fulfilled the promise that they would keep the same pizza recipe.

The Prizio family now runs the 85-year-old Worcester staple and continue to serve the best pizza in a city filled with great pizza.

Hot Dogs

Where: Coney Island

Address: 158 Southbridge Street, Worcester

One of the most obvious selections for this list, there's no better way truly experience Worcester than to have your hot dogs smothered in yellow mustard, chili sauce and chopped onions.

New York Sirloin

Where: 111 Chop House

Address: 111 Shrewsbury Street

The 111's famouse Prime New York sirloin is comes in 8 oz, 14 oz and 20 oz (that's the big boy).

You won't find a better piece of meat in the city. Like the Sole (same owners) with seafood, the Chop House rivals any steak house in the state.

Image: Kevin S. - Yelp

Egg Rolls

Where: Ho Toy Luau Restaurant

Address: 401 Park Avenue

This place may not look like an exceptional restuarant from the outside because it's a throwback to a better time (probably the 1970s).

They have the single greatest egg roll in the entire city.

As one of our writers put it, "It's unique. It's golden crusted. It's delicious."

The Ivory Tusk

Where: Flying Rhino

Address: 278 Shrewsbury Street

Served on toasted Italian bread, the Ivory Tusk is Flying Rhino's most famous sandwich. It's chicken cheese steak loaded with caramelized onions and American cheese.

Be ready to bring an appetite because the Tusk is filling...in a good way.

Guacamole

Where: Mezcal Cantina

Address: 30 Major Taylor Blvd

Mezcal's fresh guac is made to order and this stuff could put on a fake mustache and pose as a full meal. We recommend getting the flight - three different styles of guac with endless chips.

HOUSE avocado, onion, tomato, lime, cilantro, jalapeño
CRUNCHY toasted pepitas, smoked almonds, diced jicama, fried corn nuts
MEDITERRANEAN sun-dried tomato, kalamata olive, feta, fresh herb, garlic olive oil
THAI ROOSTER dried pineapple, toasted coconut, black beans, fiery Sriracha sauce
TROPICAL papaya, mango, roasted cashews
BREAKFAST BURNER bacon, hard cooked egg, bleu cheese, red hot sauce
BUFFALO CHICKEN grilled chicken, hot sauce, blue cheese, celery and carrot

Tacos

Where: Sol of Mexico

Address: 538 Pleasant Street

Worcester Fire Fighter John Tangney calls this place "The best kept secret in Worcester."

Great, now everyone knows about it.

Sol of Mexico may seem small on the outside, but once you get in you'll be thoroughly impressed by its extensive menu of authentic Mexican cuisine. It includes many chicken, seafood, beef and veggie plates with all the trimmings and all the styles one should expect. Also try their special Mexican Hot Chocolate and Churros special during the winter months as well as fruit smoothies.

Spinach Artichoke Dip

Where: Funky Murphy's

Address: 305 Shrewsbury Street

There's plenty of great spinach and artichoke dips in this city (see: The Boynton), but Funky's does something that very few places do - warm pita bread chips.

The dip is fresh and homemade and we are guaranteeing you will like it (not responsible if you don't).

Lobster Corn Chowder

Where: Bushel N Peck

Address: 643 Chandler Street

The fall is coming, and that means the cool weather, too. However, you can still warm up and enjoy some lobster in the coming months.

"Our original recipe Lobster Corn Chowder has won the competition for best chowder in Blackstone Valley two years running. We serve it at all three of our locations every Friday."- Michael Ashley, Chef/Manager

Ice Cream

Where: Gibby's Dairy Farm

Address: 50 Sunderland Road

There's no better place in Central Massachusetts to get your ice cream fix than Gibby's in Worcester.

With more than 60 flavors of ice cream, you can't go wrong.

Indulge in several more scoops of the areas best ice cream before summer comes to a close.

Image: Thao L./Yelp

French Onion Soup

Where: O'Connor's Restaurant

Address: 1160 West Boylston Street

There's plenty to like at O'Connor's and we could've easily put Potato Pizza on this list. However, O'Connor's does something better than everyone else - French Onion Soup.

Much like with the Lobster chowder above, O'Connor's French Onion soup will be a sure-fire hit this fall.

And it's loaded with cheese on top. Which, of course, we love.