Finneran: Happy for Michelle Obama
Friday, February 17, 2017
Tom Finneran, GoLocalWorcester MINDSETTER™
I'm happy for Michelle O.
I'm happy for Laura Bush too.
In fact, I'm happy for all the former first ladies. They have escaped the rat race that their husbands pursued. May they all have rich rewarding family lives. May they connect and re-connect with friends, be blessed with healthy children and grandchildren, and live to a ripe old age.
I've always had a soft spot for political spouses. They tolerate a lot. They put up with every inconvenience, every intrusion, every interruption with grace and good cheer. They suffer the slings and arrows fired at their partner, biting their tongue, and nursing the wounds of cutting words and foul deeds...........and always with a public smile, sometimes masking intense private pain.
I'm not particularly impressed with Barack Obama's tenure in the White House. He was woefully inexperienced upon his election to the presidency and he made the dreadful mistake of surrounding himself with adoring acolytes. Barack's ego does not need any feeding. He has more than enough on his own. All the press nonsense about rare intellect, Churchillian oratory, and brilliant strategic insight was just that---utter nonsense. His presidency would have benefitted greatly from the presence of grey-haired advisers who would ask the essential question incumbent upon all such advisers to all such leaders---"are you out of your mind?"
Alas, it was not to be. Instead, the Obama cheering squad was mesmerized by the propaganda machine's canard of Barack being the "black Jesus". Jesus should sue for slander.
Back to Michelle, for she gets the credit for taking Barack's gaze away from his mirror when it came to their two young daughters. The White House is a very tough place for normal people hoping to lead normal lives. And there is nothing more normal than for parents to worry about their children coming of age. Sasha and Malia were not little John-John and Caroline Kennedy, sympathetic figures from a national tragedy. They were young girls, just grade school kids, when they entered the White House, leaving their friends and classmates in Chicago and heading off to this strange house in a strange city. And, upon arrival at that new house and upon arrival to their teenage years, there were these big burly men carrying radios and guns, always hovering, monitoring their every move. That's not easy for kids. That's not much fun. And it's certainly not normal.
Michelle's instincts always seemed to me to be pitch-perfect regarding her daughters. And she seemed to bring Barack along on that all-important parental mission of raising normal daughters. School was to be emphasized and the glare of the presidential bubble was to be minimized. As mother bears fight ferociously to protect their cubs, so Michelle fought to protect and raise her daughters. She deserves great praise for her strength of purpose.
I don't think that Michelle ever liked the microscopic scrutiny that comes to the occupants of the White House. I think that Laura Bush had about the same grudging acceptance for the grim reality of that life. They each did it for their husbands' political ambitions, and within that artificial world, that notorious bubble, they protected their children. In doing so, they set a great national example for mothers everywhere.
They deserve a hearty glass of wine and an even heartier well done. May they enjoy the peace and quiet of many years.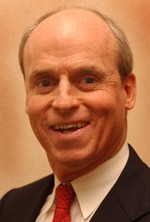 Tom Finneran is the former Speaker of the Massachusetts House of Representatives, served as the head the Massachusetts Biotechnology Council, and was a longstanding radio voice in Boston radio.