Finneran: Middlebury's March Madness
Friday, March 24, 2017
Tom Finneran, GoLocalWorcester MINDSETTER™
MIddlebury College
To the Parents: Don't pay the tuition. You have been duped. Your daughter is not getting an education.
To the Applicants: Don't go. You would be entering a concentration camp.
To the Alumni: Don't contribute. You will be subsidizing madness.
To the Trustees: Fire the President. Immediately.
To any grown-up in Middlebury's administration: a) Expel every student involved in the "protest"--i.e.—the mob assault; b) initiate criminal complaints.
Middlebury College's version of March Madness has nothing to do with basketball. Nor is its madness limited to the month of March. Its madness is of year-round duration, much like the madness overwhelming many college campuses today.
Just think of it---all this totalitarian corruption for the modest price of sixty-thousand dollars a year. You'd be better off sending your son Jack and your daughter Mary to trade school. Jack and Mary would be better off too. Plumbers and electricians are at least as smart and certainly more reliable than the "studies" majors flooding America's college campuses. Question: Does anyone study finance anymore? Engineering? Chemistry?
For those people who have been asleep for the past few weeks, you may have missed the mayhem of mob action at a recent Middlebury College lecture. The details are not important other than to note that a controversial—i.e.—"conservative" guest lecturer was invited to speak on the campus. Cowardly administrators then capitulated to politically correct mobsters run amok. Yet another bucolic campus has become a gulag of grim indoctrination and violent assault.
For those bewildered analysts who cannot figure out Donald Trump's fall victory, they should, detective-like, examine the crime scene at Middlebury. For those Democrats looking for a path out of the political wilderness in which they wander, they too should consider the forensics of this college inferno.
Simply put, the Middlebury mob exists on too many campuses. Simply put, their actions are intolerable. Simply put, college presidents and administrators are over-paid under-performers. Simply put, the mob ringleaders should be jailed, prosecuted, and expelled. Let them bring their revolution home to Mom and Dad, minus the sixty thousand dollars of tuition paid.
Normal Americans survey the scene and shrug at the nonsense of adults tolerating these juvenile tantrums. They see the arson and rioting at Berkley. They see the seething ignorance of the bullies at Middlebury and they wonder about these "best and brightest", these moral vamps who speak of tolerance while smashing the chapel.
Normal Americans no longer raise their voices however. For far too long they have been lectured and harangued as ignorant, hateful, and biased. That such accusations come from those best and brightest souls, those elitists whose Ivy League brilliance and whose sad pretensions have bankrupted the nation is a rich irony indeed. Heaps more irony can be observed in the economic enclaves the elitists inhabit, isolated and insulated far from the madding swarms of people they profess to love. Think of Zuckerberg in his walled Malibu compound or on his 700 acre guarded Kauai estate, lecturing normal Americans about their racist xenophobia.
Now consider the silence of two distinct groups---normal sensible Americans and aspiring political leaders. The silence of the first group is completely understandable. They have been mocked and scorned and bullied for years and thus they go underground. Their silence however is not an assent to the politically correct demands of the New York Times. Rather, their silence is an ominous sign of resistance to the reigning madness. They cherish the secret ballot. They are wise and right to do so. Can you imagine the crimes of the campus mobs if they could view each citizen's ballot?
The second group, those aspiring political leaders, might find some moral backbone and loudly denounce the violent demonstrators. The timidity of these political leaders is telling. They seem to be afraid. Where is Elizabeth Warren, formerly a professor at several colleges and presumably in favor of free and open intellectual exchange? She seems readily available to speak on many matters but on this matter of student violence and campus conformity she's gone silent. She is missing a golden opportunity, the same opportunity that Donald Trump seized in his denunciations of the political status quo.
I remember candidate Bill Clinton separating himself from a host of candidates when he heard Sister Souljah's cop-hating, cop-killing lyrics. Clinton denounced those lyrics in no uncertain terms and he harvested the votes of citizens who yearned for leadership in the midst of madness. Such are the opportunities today when student bullies and faculty toadies fancy themselves as the exclusive arbiters of the First Amendment. Might some adults arrive on the scene? Soon?
As for Middlebury, cherish the memory of a once-good school. It has succumbed to a raging fever.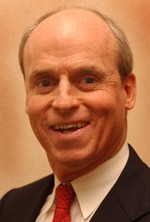 Tom Finneran is the former Speaker of the Massachusetts House of Representatives, served as the head the Massachusetts Biotechnology Council, and was a longstanding radio voice in Boston radio.
#50 Monomoy Regional High School

Harwich, MA

2014 Rank: N/A

Enrollment: 467

Mascot: Sharks

Claim to Fame: The 2014-2015 school year was the first year of opperation for Monomoy Regional High School.

2015 performance at a glance

Graduation rate: 94.6% (N/A)

District spending per pupil: $15,793

Student-teacher ratio: 9.7:1

#49 Pioneer Valley Performing Art

Charter Public School

South Hadley, Ma

2014 Rank: #54

Enrollment: 271

Mascot: N/A

Claim to Fame: Famous alumni include Elisha Yaffe (comedian, actor and producer) Naia Kete (singer/songwriter who was featured on The Voice in 2012), Seth Glier (singer/songwriter who was nominated for a Grammy award in 2012 for his album The Next Right Thing), Sonya Kitchell (singer/songwriter), and Zoe Weizenbaum (actor).

2015 performance at a glance

Graduation rate: 82.4% (-4.3%)

District spending per pupil: $13,675

Student-teacher ratio: 10.2:1

#48 Norfolk County Agricultural

Walpole, MA

2014 Rank: #39

Enrollment: 498

Mascot: Aggie Rams

Claim to Fame: Upperclassmen at Norfolk County Agricultural can acquire on-the-job training and demonstrate work readiness through the Cooperative Education Program.

2015 performance at a glance

Graduation rate: 95.7% (-4.3%)

District spending per pupil: $21,252

Student-teacher ratio: 11.4:1

#47 Hingham High

Hingham, Ma

2014 Rank: #60

Enrollment: 1,205

Mascot: Harbormen

Claim to Fame: Hingham High's baseball team was the 2013 Division II State Champion.

2015 performance at a glance

Graduation rate: 95.2% (-1.5%)

District spending per pupil: $11,430

Student-teacher ratio: 14.3:1

#46 Swampscott High

Swampscott, MA

2014 Rank: #82

Enrollment: 679

Mascot: Big Blue

Claim to Fame: Classes in Swampscott High's IVY program range in size from two to five, with an instructor-to-student ratio of 3:1 or better.

2015 performance at a glance

Graduation rate: 98.5% (+4.2%)

District spending per pupil: $14,549

Student-teacher ratio: 11.5:1

#45 Nashoba Regional

Bolton, MA

2014 Rank: #76

Enrollment: 1,075

Mascot: Chieftain

Claim to Fame: Famous alumni include Hal Gill (National Hockey League player with the Nashville Predators), Koren Zailckas (Author of bestselling book Smashed), and Clive Weeden (Professional basketball player).

2015 performance at a glance

Graduation rate: 95.3% (+0.2%)

District spending per pupil: $13,107

Student-teacher ratio: 14.2:1

#44 Duxbury High

Duxbury, MA

2014 Rank: #44

Enrollment: 1,106

Mascot: Dragons

Claim to Fame: Famous alumni include Bill Curley (Former NBA forward), Juliana Hatfield (Indie rock singer), Max Quinzani (Major League Lacrosse player), and Don Webber (High School football player who earned All-Patriot League honors).

2015 performance at a glance

Graduation rate: 98.2% (-0.6%)

District spending per pupil: $12,497

Student-teacher ratio: 14:1

#43 Norwell High

Norwell, Ma

2014 Rank: #68

Enrollment: 675

Mascot: Clippers

Claim to Fame: Famous alumni include Jennifer Coolidgev(Actress who appeared in American Pie as Stifler's Mom), Jeff Corwin (Host of The Jeff Corwin Experience and Corwin's Quest on Animal Planet) Jennifer Reed (Award winning children's book author), Susan Tedeschi (American Blues and soul singer), and Colin Reed (Press Secretary for Senator Scott Brown).

2015 performance at a glance

Graduation rate: 97.5% (-1.4%)

District spending per pupil: $13,333

Student-teacher ratio: 12.8:1

#42 Four Rivers Charter Public School

Greenfield, MA

2014 Rank: #27

Enrollment: 144

Mascot: Otters

Claim to Fame: The school is located on an historic farm in Greenfield, Massachusetts.

2015 performance at a glance

Graduation rate: 88.9% (-2.3%)

District spending per pupil: $12,586

Student-teacher ratio: 10.3:1

#41 Arlington High

Arlington, MA

2014 Rank: #84

Enrollment: 1,217

Mascot: The Indian

Claim to Fame: Famous alumni include Michael Bowman (actor in Me, Myself and Irene), Dane Cook (Actor and comedian), Alan Hovhaness (Composer), Jim Driscoll (Former MLB player for the Oakland Athletics and Texas Rangers), Olympia Dukakis (Oscar Winning Actress), Andy Powers (Professional hockey player), John A. Kelley (2-Time Boston Marathon Winner), Alan "Blind Owl" Wilson (Guitarist/songwriter of Canned Heat), Chris Leary (actor), Carl Sumner (Former MLB player for the Boston Red Sox), and Liam Ezekiel (Former NFL player).

2015 performance at a glance

Graduation rate: 94.6% (+1.7%)

District spending per pupil: $12,546

Student-teacher ratio: 13.7:1

#40 Hopkinton High

Hopkinton, MA

2014 Rank: # 53

Enrollment: 1,122

Mascot: Hillers

Claim to Fame: Famous alumni include Keegan Bradley (Professional Golfer).

2015 performance at a glance

Graduation rate: 99% (-0.2%)

District spending per pupil: $13,005

Student-teacher ratio: 13.9:1

#39 Nauset Regional High

North Eastham, MA

2014 Rank: #38

Enrollment: 959

Mascot: Warriors

Claim to Fame: Famous alumni include Mike DeVito (NFL defensive lineman for the Kansas City Chiefs) and Meghan Trainor (Singer/songwriter currently signed to Epic Records).

2015 performance at a glance

Graduation rate: 93.7% (+0.5%)

District spending per pupil: $16,818

Student-teacher ratio: 11.5:1

#38 Marblehead High

Marblehead, MA

2014 Rank: #65

Enrollment: 1,025

Mascot: Magician

Claim to Fame: Famous alumni include Keith Ablow (American psychiatrist and Fox News political commentator), Shalane Flanagan (Olympic bronze medalist in the 10,000m), Joel Mark Noe (Pioneering reconstructive surgeon and Harvard Medical School professor), Cory Schneider (American professional ice hockey goaltender), and Rob Delaney (American comedian and writer).

2015 performance at a glance

Graduation rate: 97.6% (+0.9%)

District spending per pupil: $12,706

Student-teacher ratio: 12.1:1

#37 Community Charter School

Cambridge, MA

2014 Rank: #11

Enrollment: 237

Mascot: Cougar

Claim to Fame: Since 2009, when Community Charter School of Cambridge graduated its first class, 100% of seniors have been admitted to college, 90% to four-year schools.

2015 performance at a glance

Graduation rate: 80.6% (-7.6%)

District spending per pupil: $27,474

Student-teacher ratio: 12.9:1

#36 Westford Academy

Westford, MA

2014 Rank: #34

Enrollment: 1,634

Mascot: Grey Ghosts

Claim to Fame: Westford Academy was founded in 1788, and it is one of the oldest public high schools in the United States.

2015 performance at a glance

Graduation rate: 99% (+0.4%)

District spending per pupil: $11,838

Student-teacher ratio: 14.2:1

#35 Longmeadow High

Longmeadow, MA

2014 Rank: #32

Enrollment: 967

Mascot: Lancer

Claim to Fame: Famous alumni include Bridget Moynahan (Actress), Steve Courson (Offensive Guard for the Pittsburgh Steelers and the Tampa Bay Buccaneers), Aaron Lewis (Lead singer of the band Staind), Jay Heaps (Coach of the New England Revolution), Craig E. Campbell (Alaska's 12th Lieutenant Governor and retired Lieutenant General of the Alaska National Guard), Joey Santiago (Lead guitarist of The Pixies), Joe Philbin (Current head coach of the Miami Dolphins), Meghann Fahy (Actress), Marisa Mosely (Assistant Coach for the UCONN Women's Basketball), Andrea Leers (Principal of Leers-Weinzapfel Associates and world-renowned architects), and Michael Palmer MD (Best-selling novelist).

2015 performance at a glance

Graduation rate: 98.3% (0%)

District spending per pupil: $13,695

Student-teacher ratio: 12.5:1

#34 Westwood High

Westwood, MA

2014 Rank: #28

Enrollment: 971

Mascot: Wolverine

Claim to Fame: Famous alumni include Jon Finn (award-winning guitarist), John Harrington (Former CEO of the Boston Red Sox), Peter S. Pezzati (Portrait painter), Jackie MacMullan (Newspaper sportswriter and NBA columnist for ESPN.com), and Douglas Mackinnon (Former White House and Pentagon official and bestselling author).

2015 performance at a glance

Graduation rate: 99.5% (+1.3%)

District spending per pupil: $14,827

Student-teacher ratio: 13.3:1

#33 Francis W. Parker Charter Essential

Devens, MA

2014 Rank: #17

Enrollment: 253

Mascot: Panther

Claim to Fame: The Bill & Melinda Gates Foundation gave a $500,000 grant to their Teachers Center.

2015 performance at a glance

Graduation rate: 91% (-1.9%)

District spending per pupil: $14,691

Student-teacher ratio: 8.6:1

#32 Cohasset High School

Cohasset, MA

2014 Rank: #48

Enrollment: 391

Mascot: Skippers

Claim to Fame: Famous alumni include Kate Bosworth (Actress) and Keith Elam (Rapper).

2015 performance at a glance

Graduation rate: 99% (+3.4%)

District spending per pupil: $13,478

Student-teacher ratio: 12.4:1

#31 Holliston High

Holliston, MA

2014 Rank: #70

Enrollment: 800

Mascot: Panthers

Claim to Fame: Famous alumni include Mark Sweeney (Former professional baseball player), Kara Wolters (Former US Women's Olympic Basketball Team), Paul Loscocco (Former member of the Massachusetts House of Representatives), and Adam Green (Filmmaker).

2015 performance at a glance

Graduation rate: 99.5% (+3.3%)

District spending per pupil: $12,548

Student-teacher ratio: 12.4:1

#30 Martha's Vineyard Regional High

Oak Bluffs, MA

2014 Rank: #4

Enrollment: 687

Mascot: The Vineyarders

Claim to Fame: Since 1991, Martha's Vineyaard Regional High's cross country team has won the state title five times.

2015 performance at a glance

Graduation rate: 92.5% (+0.8%)

District spending per pupil: $18,986

Student-teacher ratio: 9.1:1

#29 Winchester High School

Winchester, MA

2014 Rank: #29

Enrollment: 1,209

Mascot: Sachems

Claim to Fame: Famous alumni include Patrick Aufiero (Professional Hockey Player), Joe Bellino (Won the Heisman Trophy in 1960, and later played for the Boston Patriots), Pat Badger (Bassist for the band Extreme), Bob Bigelow (NBA player), John Cazale (Actor in The Godfather and other films) Janet Doub Erickson (Graphic artist and author), Tony Fryklund (MMA fighter), Wally Gagel, (Music Producer), Art Johnson (Played for the Boston Braves), and Kofi Kingston (WWE Wrestler).

2015 performance at a glance

Graduation rate: 99.2% (+0.3%)

District spending per pupil: $12,380

Student-teacher ratio: 14.1:1

#28 Needham High

Needham Heights, MA

2014 Rank: #30

Enrollment: 1,614

Mascot: Rockets

Claim to Fame: Famous alumni include Eric Johnson (Former NFL Tight End), Mike Tannenbaum (Executive VP of Football Operations for the Miami Dolphins), Bert and John Jacobs (Founders of the 'Life is Good' T-shirt company), Robbie Ftorek (NHL coach), Karl Ravech (ESPN Baseball Tonight anchor), Sarah Saltzberg (Actress/singer), Jeff Taylor (Founder of Monster.com), Sunita Williams (NASA astronaut), Lee Eisenberg (Film and television writer), Charles D. Baker (Governor of Massachusetts), Aly Raisman (Won the Olympic gold medal in London 2012 for gymnastics), Steven Hauschka (NFL Kicker), and James S. Gracey (Former Commandant of the United States Coast Guard).

2015 performance at a glance

Graduation rate: 97.5% (-0.3%)

District spending per pupil: $14,320

Student-teacher ratio: 14.5:1

#27 Boston Latin

Boston, MA

2014 Rank: #20

Enrollment: 1,621

Mascot: Wolfie

Claim to Fame: Boston Latin School was founded in 1635.

2015 performance at a glance

Graduation rate: 97.1% (-1.5%)

District spending per pupil: $17,598

Student-teacher ratio: 20.5:1

#26 Westborough High

Westborough, MA

2014 Rank: #26

Enrollment: 1,045

Mascot: The Ranger

Claim to Fame: Westborough High offers a wide variety of curricular and extracurricular musical ensembles.

2015 performance at a glance

Graduation rate: 97.1% (+0.5%)

District spending per pupil: $14,306

Student-teacher ratio: 12.7:1

#25 Cambridge Rindge and Latin

Cambridge, MA

2014 Rank: #15

Enrollment: 1,836

Mascot: Falcons

Claim to Fame: Famous alumni include Ben Affleck (Actor), Casey Affleck (Actor), Leroy Anderson (Composer), Orson Bean (Actor), Traci Bingham (Actress and model), Walter Brennan (Actor and three-time Academy Award winner), Max Casella (Actor), Peggy Cass (Actress and comedian), Eric Cornell (2001 Nobel Prize in Physics), E. E. Cummings (Poet), and Matt Damon (Actor).

2015 performance at a glance

Graduation rate: 91.1% (+3.3%)

District spending per pupil: $27,474

Student-teacher ratio: 10.3:1

#24 Sturgis Charter Public School

Hyannis, MA

2014 Rank: #21

Enrollment: 806

Mascot: East - Storm

West - Navigators

Claim to Fame: Sturgis East won the 2014 Hurvitz Cup trophy for having the highest score in their division in the State Chess Team Turnament.

2015 performance at a glance

Graduation rate: 94.6% (+2.3%)

District spending per pupil: $14,110

Student-teacher ratio: 9.5:1

#23 Medfield Senior High

Medfield, MA

2014 Rank: #36

Enrollment: 876

Mascot: Warrior

Claim to Fame: Medfield High School is committed Challenging academics, Lifelong learning, Excellence, Achievement of personal success, and Respect (CLEAR).

2015 performance at a glance

Graduation rate: 98.7% (-0.5%)

District spending per pupil: $12,321

Student-teacher ratio: 13.3:1

#22 Mt. Greylock Regional High

Williamstown, MA

2014 Rank: #42

Enrollment: 347

Mascot: Mounties

Claim to Fame: Student learning at Mt. Greylock Regional high is enhanced by the close proximity of three museums (Clark Art Institute, Williams College Museum of Art, and MASS MoCA).

2015 performance at a glance

Graduation rate: 100% (+11.1%)

District spending per pupil: $18,688

Student-teacher ratio: 11.3:1

#21 Hamilton-Wenham Regional High

South Hamilton, MA

2014 Rank: #31

Enrollment: 625

Mascot: Generals

Claim to Fame: Famous alumni include David Morse (Actor) and Michael Carter-Williams (NBA player).

2015 performance at a glance

Graduation rate: 97.8% (+2.5%)

District spending per pupil: $15,057

Student-teacher ratio: 12.2:1

#20 Acton-Boxborough Regional High

Acton, MA

2014 Rank: #25

Enrollment: 1,903

Mascot: The Colonial

Claim to Fame: Famous alumni include Seth Abramson (Poet), Tom Barrasso (Member of the 2002 U.S. Silver Medal hockey team and in the NHL hall of fame), Bob Brooke (NHL hockey player), Drew Houston (Dropbox founder), Maria Konnikova (Journalist), Jeff Norton (NHL hockey player), Caroll Spinney (Sesame Street puppeteer who performs Big Bird), Evelyn Stevens (cyclist), Bob Sweeney (NHL hockey player), and Pat Morris (NHL hockey player).

2015 performance at a glance

Graduation rate: 98.1% (+0.2%)

District spending per pupil: $12,169

Student-teacher ratio: 15.3:1

#19 Manchester Essex Regional High

Manchester-by-the-Sea, MA

2014 Rank: #35

Enrollment: 440

Mascot: Hornet

Claim to Fame: Manchester Essex Regional High offers Senior Choice of Related Experience (SCORE), which is an internship program that allows students to gain hands-on learning in a field of their choice.

2015 performance at a glance

Graduation rate: 97.4% (+4.4%)

District spending per pupil: $14,317

Student-teacher ratio: 11.4:1

#18 Amherst Regional High

Amherst, MA

2014 Rank: #19

Enrollment: 980

Mascot: Hurri the Cane

Claim to Fame: Famous alumni include Annie Baker (Pulitzer Prize winning playwright), Thomas Bezucha (Film director and writer of Big Eden and The Family Stone), John Henry (Former MLB player), James Ihedigbo (NFL safety for the Detroit Lions), Amory Lovins (CEO of the Rocky Mountain Institute), Eric Mabius (Actor), Julie McNiven (Actress), Ellen Moran (Chief of Staff to the U.S. Secretary of Commerce), Ebon Moss-Bachrach (Actor), Perry Moss (NBA player), Benjamin Nugent (Writer), Gil Penchina (CEO of Wikia), and Robbie Russell (MLS player)

2015 performance at a glance

Graduation rate: 90.2% (-1.1%)

District spending per pupil: $19,054

Student-teacher ratio: 13.1:1

#17 Essex Agricultural and Tech

Danvers, MA

2014 Rank: #22

Enrollment: 1,128

Mascot: Essex Aggie Rams

Claim to Fame: Essex Agricultural Tech offers study in Plant Science, Animal Science and Environmental Science.

2015 performance at a glance

Graduation rate: 99.1% (+1.7%)

District spending per pupil: $23,149

Student-teacher ratio: 10.4:1

#16 Sharon High

Sharon, MA

2014 Rank: #16

Enrollment: 1,104

Mascot: Eagles

Claim to Fame: Famous alumni include the head men's basketball coach at Auburn, Bruce Pearl.

2015 performance at a glance

Graduation rate: 97.1% (0%)

District spending per pupil: $14,659

Student-teacher ratio: 12.6:1

#15 Concord Carlisle High

Concord, MA

2014 Rank: #7

Enrollment: 1,255

Mascot: Minutemen

Claim to Fame: Famous alumni include Chester G. Atkins (Former Congressman from Massachusetts's 5th congressional distric), Bob Diamond (CEO of Barclays), Richard Fadden (CSIS Director), Kristin Hedstrom (USA Rowing national team member and London 2012 Olympian), Sam Presti (General Manager of the NBA's Oklahoma City Thunder), Ted Sarandis (Sports radio personality), and John Tortorella (Former head coach of NHL's New York Rangers).

2015 performance at a glance

Graduation rate: 97% (-1%)

District spending per pupil: $16,274

Student-teacher ratio: 13.4:1

#14 Bromfield School

Harvard, MA

2014 Rank: #13

Enrollment: 414

Mascot: Trojan

Claim to Fame: Famous alumni include Keir O'Donnell (Starred in the popular comedy movie the Wedding Crashers) and Lynn Jennings (In 1992 she became the first American woman to win an Olympic medal in long-distance track).

2015 performance at a glance

Graduation rate: 97.1% (-1.2%)

District spending per pupil: $14,691

Student-teacher ratio: 12.9:1

#13 Brookline High

Brookline, MA

2014 Rank: #12

Enrollment: 1,905

Mascot: Spartan Warrior

Claim to Fame: Brookline High has played Football on Thanksgiving Day against their rival, Newton North High School, since 1894.

2015 performance at a glance

Graduation rate: 92.2% (-1.3%)

District spending per pupil: $16,924

Student-teacher ratio: 12.2:1

#12 Bedford High

Bedford, MA

2014 Rank: #18

Enrollment: 913

Mascot: Buccaneers

Claim to Fame: Famous alumni include Doug Ardito (Guitarist for Puddle of Mudd), Steve Shea (Former MLB player), John Rennie (Former editor in chief of Scientific American magazine), Taec Yeon Ok (Actor), John Ferrillo (Boston Symphony Orchestra), and Bonnie Comley (Broadway Actress and Producer).

2015 performance at a glance

Graduation rate: 98.4% (+2.7%)

District spending per pupil: $16,993

Student-teacher ratio: 11.4:1

#11 Wellesley Sr High

Wellesley Hills, MA

2014 Rank: #9

Enrollment: 1,480

Mascot: Raider

Claim to Fame: American poet Sylvia Plath attended Wellesley Sr High.

2015 performance at a glance

Graduation rate: 98.1% (-0.5%)

District spending per pupil: $17,232

Student-teacher ratio: 13:1

#10 Newton North High

Newton, MA

2014 Rank: #14

Enrollment: 2,038

Mascot: Tiger

Claim to Fame: Famous alumni include Katharine Lee Bates (Composer of America the Beautiful), Amalie Benjamin (Boston Red Sox reporter for The Boston Globe), Louis C. K. (Stand-up comedian) Jim Corsi (MLB pitcher), Michael Thomas (author), and Matt LeBlanc (Actor).

2015 performance at a glance

Graduation rate: 94.9% (+0.5%)

District spending per pupil: $17,141

Student-teacher ratio: 11.4:1

#9 Lincoln-Sudbury Regional High

Sudbury, MA

2014 Rank: #10

Enrollment: 1,617

Mascot: Warriors

Claim to Fame: Famous alumni include Lynne Berry (Children's author), Mike Croel (NFL linebacker), Chris Evans (Actor), Scott Evans (Actor), Diana Golden (Gold medal in Disabled skiing at the 1988 Winter Olympics), Mike Gordon (Bassist from the band Phish), Maggie Hassan (Governor of New Hampshire), Robert Kirshner (Astrophysicist and author), John Linnell and John Flansburgh (founders of the band They Might Be Giants), and Joe Sims (NFL tackle/guard).

2015 performance at a glance

Graduation rate: 98.7% (0%)

District spending per pupil: $18,304

Student-teacher ratio: 13.1:1

#8 MA Academy for Math and Science

Worcester, MA

2014 Rank: #285

Enrollment: 97

Mascot: Gompei the Goat

Claim to Fame: Seniors at MA Academy for Math and Science take a full-time course load at Worcester Polytechnic Institute.

2015 performance at a glance

Graduation rate:100% (0%)

District spending per pupil: $13,466

Student-teacher ratio: 13.1:1

#7 Newton South High

Newton, MA

2014 Rank: #5

Enrollment: 1,803

Mascot: Lion

Claim to Fame: Newton South High has the Newton-Beijing Jingshan School Exchange Program which is the oldest public secondary school student exchange between the U.S. and the People's Republic of China.

2015 performance at a glance

Graduation rate: 97.8% (-0.3%)

District spending per pupil: $17,141

Student-teacher ratio: 12:1

#6 Wayland High School

Wayland, MA

2014 Rank: #8

Enrollment: 851

Mascot: Warriors

Claim to Fame: Famous alumni include Samuel Adams Wisner (Rapper), Daniel Roberts (Journalist at Fortune magazine), Taylor Schilling (Actress), Ryan Sypek (Actor), Justin Lerner (Film director / writer), Evan Sneider (Actor), Sarah Hurwitz (Speechwriter to Hillary Clinton and Barack Obama), Gary Gray (Host and producer of the Playboy TV series The Helmetcam Show), Gregg Kavet (Writer and co-executive producer of Seinfeld), Phil Regan (Former manager and MLB player), Scott Levin (Television news anchor for WGRZ Buffalo, NY), Alberto Salazar (Winner of the Boston Marathon and three-time winner of the New York City Marathon), and Elliott Francis (Television/Radio news anchor).

2015 performance at a glance

Graduation rate: 99.5% (0.4%)

District spending per pupil: $16,177

Student-teacher ratio: 12.2:1

#5 Advanced Math and Science Academy

Charter School

Marlborough, MA

2014 Rank: #6

Enrollment: 569

Mascot: War Eagle

Claim to Fame: Advanced Math and Science Academy offers more than ten computer science classes to students: ranging from Game Design to Intro to Java/Networking.

2015 performance at a glance

Graduation rate: 99% (+0.4%)

District spending per pupil: $14,723

Student-teacher ratio: 12.3:1

#4 Lenox Memorial High

Lenox, MA

2014 Rank: #24

Enrollment: 237

Mascot: Millionaires

Claim to Fame: Lenox Memorial High has a school Literary Magazine in which the literary works of students are published. The magazine is called the Gr8 Lit Mag.

2015 performance at a glance

Graduation rate: 100% (+8.7%)

District spending per pupil: $16,003

Student-teacher ratio: 8.2:1

#3 Dover-Sherborn Regional High

Dover, MA

2014 Rank: #3

Enrollment: 663

Mascot: Raiders

Claim to Fame: Dan Itse (New Hampshire Representative), Chad Urmston (Singer-songwriter of Dispatch), Kenny Florian (Retired MMA fighter for UFC), Paul Calello (Chairman Credit Suisse), Dan Bennett (Defense Attorney who received the Massachusetts lawyer of the year award in 2013), and Marilyn Mosby (State's Attorney for Baltimore City).

2015 performance at a glance

Graduation rate: 98% (-0.1%)

District spending per pupil: $17,123

Student-teacher ratio: 12:1

#2 Lexington High

Lexington, MA

2014 Rank: #2

Enrollment: 2,093

Mascot: Minutemen

Claim to Fame: Famous alumni include Zachary Lemnios (Assistant Secretary of Defense), Ron Lee (Former NBA player), Dinny McNamara (Former MLB player for the Boston Braves), Ethan Zohn (Winner of Survivor: Africa), and Don Nottebart (Former MLB Player).

2015 performance at a glance

Graduation rate: 96.9% (-0.5%)

District spending per pupil: $16,812

Student-teacher ratio: 12.9:1

#1 Weston High

Weston, MA

2014 Rank: #1

Enrollment: 707

Mascot: Wildcat

Claim to Fame: Famous alumni include Laurel Coppock (Actress) Grover Norquist (President of Americans for Tax Reform), Alec Sulkin (Writer and producer of Family Guy), and David Fran (Founding member of the 1980s R&B group The System).

2015 performance at a glance

Graduation rate: 100% (+3.4%)

District spending per pupil: $20,579

Student-teacher ratio: 9.7:1