Finneran: Never Ever
Friday, December 08, 2017
Tom Finneran, GoLocalProv MINDSETTER™
I was always surprised.
The stupidity amazed me. A kinder word might be gullibility but the importance of the task insists on using stronger words. Therefore I choose to describe it as utterly amazing stupidity.
How could anyone fall for it?
The "it" in question is voting and Hollywood.
You know Hollywood, where adults play at make-believe. Hollywood, the home of fake people with pompous opinions. Hollywood, where aspiring politicians go to raise money and engage pseudo philosophers in their mockery of ordinary Americans.
Hollywood. Talk about a dismal and putrid swamp which could use some draining. Good God, blow it all up.
The notion that any of Hollywood's so-called celebrities have even the faintest idea of the lives of ordinary Americans is absurd. Similarly absurd is the fact that the political endorsements of these plastic creatures actually impress some people.
Not me. Never ever. Not for one second do I care or even think about George Clooney's preferred candidates. Or Matt Lauer's. Or Harvey Weinstein's.
Their condescension is palpable. And their hyper-hypocrisy is laughably obvious. These pigs paraded around as defenders of the gentle sex, highly alarmed about the GOP's alleged "war on women". Spare me their lectures. I ain't listening.
As far as any war on women these three pigs, and many more, were the equivalent of one-man Panzer divisions. What phonies.
Remember what I said re listening to anything they say---never ever.
Consider their net worth to get an idea of just how remote they are from any American family you've ever known:
Matt Lauer: annual salary estimated at $ 20-25 Million dollars a year; Net worth is $ 60 million;
Harvey Weinstein: Net worth estimated at $ 240-300 Million dollars;
Charlie Rose: Net worth is estimated at a paltry $ 23 Million dollars, demonstrating the amazing frugality of PBS;
Al Franken: an unfunny "comic" who ends up as a United States Senator which, when given any serious thought, might be the biggest (and worst) joke of all time. Pity the Senate. Pity America.
Consider too the objects of their scorn—humble folks who never went to an Ivy League school, who get married and stay married to the same person, who work two or more jobs to support their families, who attend church services, and who maybe even run a local Girl Scout or Boy Scout troop or who coach kids in various sports. Always a little bit slow to pick up on the latest cultural fad and absurdity, such folks are then viciously mocked by Hollywood as bigots and haters.
Protected by high walls and armed guards, secure in their finances and limousines, our Hollywood celebrities are of course completely insulated from the dreadful effects of their silly politics. I'm often reminded of dippy John Lennon singing his "Imagine No Possessions" song while pocketing many millions of dollars into trust funds and tax shelters. Similar hypocrisies, although much more deadly than dreamy John Lennon, can be found in Hollywood's embrace of Arafat, of Castro, of Mao, and of Stalin.
Of course it's easy to affect a thoughtful pose of such "people's revolutionaries" from behind those guarded gated communities of Hollywood. Thuggish murderers can apparently look great from a distance.
I don't buy it and neither should you. Streep might act and Springsteen might sing. But don't fall for their lectures.
Not now. Not ever. Never ever.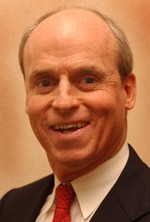 Tom Finneran is the former Speaker of the Massachusetts House of Representatives, served as the head the Massachusetts Biotechnology Council, and was a longstanding radio voice in Boston radio.
Entertainment

Harvey Weinstein

Former entertainment boss and political influencer and fundraiser is now facing allegations from dozens of women. Reported by the New York Times that law enforcement in NY are poised to file rape charges against Weinstein.

Politics

Roy Moore

GOP candidate for U.S. Senate has been accused by eight women off sexual abuse. The impact has seen Moore drop in the polls and now the seat that was a lock to stay Republican is a toss-up.

Moore and, now his wife, deny the claims and say they are politically motivated.

Media

Michael Oreskes

The National Public Radio senior news editor was forced to resign, "Our top editor, NPR Senior Vice President of News Mike Oreskes, has resigned following accusations of sexual harassment. Three women have filed complaints, one a current NPR reporter, the other two alleging harassment from two decades ago when Oreskes was at The New York Times."

But now, Oreskes may just be the tip of the proverbial iceberg. Now, the controversy has expanded. On Thursday, NPR reported, "As NPR's Board of Directors meet in Washington, D.C., this week, the network finds itself confronted by a series of dispiriting developments: a CEO on medical leave; a chief news executive forced out over sexual harassment allegations; the sudden resignation of a board chairman; fresh complaints over inappropriate behavior by colleagues; and a network roiled by tensions over the treatment of its female workers."

Politics

Donald Trump

"Meanwhile, some of the women who accused Donald Trump of sexual harassment or assault during the presidential campaign wonder when the president might finally pay a price for what he allegedly did to them.

'Things just seem to fall off of Trump, I'm extremely disappointed,' says Jessica Leeds, 75, who alleges Trump tried to kiss her, fondle her breasts and put his hand up her skirt while on a flight to New York in the early 1980s," reports People magazine.

Entertainment

Andy Dick

"Clearly Andy Dick's behavior is reprehensible. We used him twice on our show two years ago when he was sober for an extended period in order to encourage him to change his life. Sadly he has not. We no longer use him on our show," Judd Apatow tweeted Tuesday after social media users criticized him for not speaking out against Dick," reported the Chicago Tribune."

Entertainment

Andy Signore

"Andy Signore, creator of Screen Junkies and the "Honest Trailers" series, has been fired effective immediately, Defy Media announced Sunday evening. Signore has been accused by several women of sexual harassment, and at least one said he tried to sexually assault her," reports Variety magazine.

Entertainment

Oliver Stone

"While Oliver Stone defended Harvey Weinstein amid more than a dozen allegations of sexual harassment and assault, a former Playboy Playmate accused the "Platoon" director of sexual assault.

Carrie Stevens, who was best known as Playboy's Playmate of the Month in June 1997 but also had several small movie and TV roles, claimed Thursday that Stone had grabbed her breast at a party," reports the NY Daily News.

Politics & Entertainment

Al Franken

Former SNL star and progressive United States Senator, he has admitted (after the photo was released) or sexual harassment. Now, some Democratic colleagues are calling for an Ethics Committee investigation.

Others are calling for Franken to resign.

Entertainment

Chris Savino

"The Loud House showrunner Chris Savino has been fired from Nickelodeon, amidst allegations of sexual harassment.

Savino had first been suspended by the network when allegations first surfaced. A dozen women have accused Savino of inappropriate behavior, in a story first reported by the website Cartoon Brew. Their accusations — which date back several years — include unwanted sexual advances as well as threats of retribution after the end of consensual relationships," reports Variety.

Media

Mark Halperin

No journalist was hotter than Mark Halperin. But, now he has been accused of harassing a dozen women while at ABC News.

His Book contract terminated. And he has been fired from his slot on "Morning Joe." He has apologized for some of the instances and denied others.

Hollywood

Kevin Spacey

The actor that helped to create Netflix is now being unveiled by a range of accusers of being a serial abuser.

Multiple your men and boys have alleged Spacey sexuallty abused them. Netflix has dropped him from "House of Cards."

Politics

Members of the Rhode Island House of Representative

State Representative Teresa Tanzi said she has been the victim of sexual harassment in the RI State House by a fellow male legislator.

Rhode Island State Police and Attorney General Peter Kilmartin are investigating the charges.

The State Police and Kilmartin Released the Following Statement

"Yesterday, Attorney General Peter Kilmartin contacted Colonel Ann C. Assumpico, Superintendent of the Rhode Island State Police and Director of the Department of Public Safety, regarding allegations of sexual harassment at the Rhode Island State House made by Representative Teresa Tanzi. The two agencies are working together to review the allegations. As is the policy of both the State Police and the Attorney General's Office, the two agencies are not going to be making further comment with respect to the status of or direction of the inquiry."

Entertainment

David Guillod

"Three more women have come forward to say Hollywood manager and "Atomic Blonde" producer David Guillod raped them, including an assistant at his former management company who said he took her from her bed at a 2014 company retreat and raped her.

The other two women said he drugged and raped them at his home in 2015 — and that they woke up covered in blood.

Guillod denies all of the accusations. The new accusers, who do not wish to be identified, join "Ted" actress Jessica Barth, whose public accusation that Guillod drugged and sexually assaulted her in 2012 sparked his recent resignation from Primary Wave Entertainment, his management company," reports AOL.

Entertainment

Louis C.K.

"Accused by five women of sexual misconduct. The planned release of his film "I Love You, Daddy" halted. Netflix special has been canceled. He says the allegations are true and has apologized," according to ABC News.

Entertainment

Jeffrey Tambor

"...Amazon has launched an investigation into Tambor's behavior in response to a leaked Facebook post from his former assistant Van Barnes which was circulating within Hollywood's transgender community. In the post, Barnes, who is transgender herself, wrote about the sexual harassment she had endured at the hands of a former boss who had repeatedly groped and propositioned her, suggesting that sleeping with him would earn her an industry-appropriate pay grade. She accused her employer of making lewd comments, playing pornography at loud volumes, and threatening to sue her if she spoke up. Transparent's writers have since been contemplating whether the fifth season can go on without its star," reported Slate.

Two additional transgender women came forward this week with new allegations against Tambor late this week.

Entertainment

Steven Seagal

Action actor has been accused by a number of accusers: including de Rossi, Inside Edition correspondent Lisa Guerrero, The Good Wife actress Julianna Margulies, and Jenny McCarthy.

Entertainment

Sly Stallone

The actor who created the Rocky character is accused of sexually abusing a 16-year-old girl. The woman alleges that the event took place in 1986 -- Stallone was 40 years old at the time.

The Daily Mail, who broke the story reports, "That retired Las Vegas Metropolitan Police Department detective sergeant John Samolovitch vouched that 'the copy of the police report is, in fact, a true copy of the original report.' The force is yet to comment."

James Toback

ABC reports, "Writer-director James Toback — Accused by hundreds of women of sexual harassment. Beverly Hills police investigating complaints. He has denied the allegations to the Los Angeles Times."

Entertainment

Ben Affleck

According to Rolling Stone, "Stephen Colbert asked Ben Affleck about his past sexual misconduct – last month, the actor apologized for groping Hilarie Burton on camera in 2003 – and his reaction to the Harvey Weinstein sexual assault allegations on The Late Show on Thursday. Good Will Hunting, the film that launched Affleck to stardom, was released by Miramax, a company co-founded by Weinstein.

"What I was accused of by a woman was touching her breast while I gave her a hug," Affleck told Colbert. "I don't remember it, but I absolutely apologize for it. I certainly don't think she's lying or making it up.'"

Politics

George H.W. Bush

Business Insider reports, "After actress Heather Lind accused former President George H. W. Bush of sexual harassment, five other women have since come forward with their own experiences with Bush, all of which involving him groping their buttocks during photo shoots."