Finneran: The Big Tweet
Friday, September 29, 2017
Tom Finneran, GoLocalWorcester MINDSETTER™
President Trump has been busy.
He's been so busy in fact that I hesitate to intrude.
But, I'm an American citizen with some opinions. And there is nothing more American than offering advice---really, perhaps just mouthing off---to a President. So here goes...................
First, I understand Trump's attachment to the world of tweets. He probably learned about its wonders under the eight years of his predecessor. Do you remember how Barack was "cool", oh so hip, and perfectly connected to the millennials and their ways? So said the intelligentsia. Why Obama even conducted foreign policy by tweet. Do you remember the never to be forgotten "Bring Back Our Girls" tweet about the Nigerian kidnap victims of Boko Haram? Or the "leading from behind" tweet concerning the fiasco in Libya?
Trump must have expected that his own blizzard of tweets would be treated with the ecstatic reverence and applause the New York Times gave to President Obama's brilliant utterances. Silly Trump.
Despite all the finger-wagging of the Times and other media critics, Trump should not forego his use of social media, specifically Twitter. He might not want to indulge it so frequently as to risk carpal tunnel syndrome but he should not refrain from it. In fact, his tweets allow him to communicate with his followers without the filters of editors and the many biases of the media. More power to him.
Where Trump goes off the rails and hurts himself is with his much too frequent reflex of grabbing for the smartphone. His Chief of Staff should put him in handcuffs for several hours (or days) at a time. Trump should learn that less is more. And he should know by now that incessant use of any tool renders the tool less effective.
My suggestion? The President should take a clean 3 by 5 index card each Monday morning and put it in the center of his desk in the Oval Office. Whenever an irritant thought or event crosses his mind he should make a note of it on his index card. Come Sunday night--yes, a full seven days later-- he should study the card and consider one grand tweet on those issues he finds still worthy of comment. He will find that the mere passage of a few days will render most of the irritants moot. He can then cull the serious stuff, if any, and call it The Big Tweet.
Imagine the upside for Trump. He might actually get some helpful advice from his advisers. He might ask some questions and get some thoughtful answers before he hits "send". He would certainly gain from the eternal maternal wisdom of counting to ten before lashing out.
The smartest people I've ever known do not try to be the quickest with a quip. Rather, they surround themselves with smart people---"great people" in the President's lexicon---and they seek their opinions. Listening closely is the first task. Asking questions is the second task. Actually thinking about the various responses is the third task.
Note the required ingredients. Curiosity, patience, and thought.
Donald Trump is not a dumb man. He might be impulsive and he is certainly egotistical. Those two traits do not disqualify him from the presidency. In fact, they put him in company with many of his predecessors. Fortunately for them, and blessedly for us and the nation, those predecessors did not have the technology of Twitter at hand. For them, the "pause and think function" was the only function available.
Today, it's the "send function" which gives such irresistible temptation to so many.
Resist, resist, resist Mr. President. Resist that temptation. Hold your fire. The world can wait, wait, wait for The Big Tweet.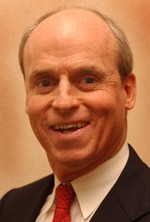 Tom Finneran is the former Speaker of the Massachusetts House of Representatives, served as the head the Massachusetts Biotechnology Council, and was a longstanding radio voice in Boston radio.