Horowitz: Trump Commits Policy Malpractice on Fuel Efficiency Standards
Tuesday, August 07, 2018
Rob Horowitz, GoLocalWorcester MINDSETTER™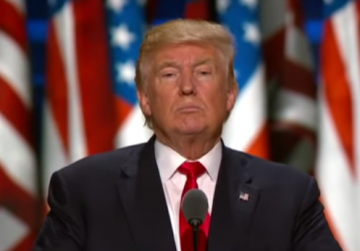 Donald Trump
It takes a rare combination of arrogance, recklessness, and just plain incompetence to unify the automobile industry and environmental organizations against proposed new regulations. The Trump Administration managed this dubious accomplishment last week with the issuing of proposed rules essentially canceling existing requirements for continuous improvements in fuel efficiency for cars and trucks between now and 2026.
The Trump Administration proposes to freeze the current requirements in place, doing away with the regulations mandating that the nation's fleetwide average reach about 55 miles per gallon by the end of 2025. Additionally, their plan eliminates California's waiver, put in place nearly 50 years ago at the request of then Governor Reagan, specifying that our nation's most populous state can enact stricter requirements than the nation as a whole because of its unique air pollution problems.
While the auto industry did want some scaling back of the ambitious mileage goals advanced by the Obama Administration, they oppose a freeze. Executives in the industry realize that improvements in fuel economy are a key to global economic competitiveness in a world that has pointedly refused to join the Trump Administration in their embrace of climate change denial and supports continuing and major improvements in fuel efficiency standards.
These pragmatic business leaders strongly prefer one nationwide standard as is the case under the existing rules-a result of a compromise forged with California. They realize California will vigorously contest the proposed new rules and the elimination of their waiver and particularly on the waiver stand an excellent chance to prevail in Court.
Completely predictably, California Gov. Jerry Brown (D) responded to the Trump Administration plan by saying the state "will fight this stupidity in every conceivable way possible." As reported in The Washington Post, a group of 19 state attorneys general joined California Attorney General Xavier Becerra (D), who vowed that the state would "use every legal tool at its disposal to defend today's national standards and reaffirm the facts and science behind them."
The auto industry's greatest fear is a domestic car market with two dramatically different fuel efficiency requirements. California already represents more than 10% of the national car market and 13 other states, including Rhode Island and Massachusetts, adhere to the California standards as does the District of Columbia. If California prevails in court a segmented market is the likely outcome. In the meantime, the uncertainty and confusion is bad for business as well.
Even worse, the rationale for the rules change includes predictions of stepped up auto accident deaths due to increased fuel economy standards that even the Trump Administration's own Acting EPA Administrator Andrew Wheeler reportedly believes are unlikely to stand up to court challenge.
As with health care, the Trump Administration has rejected a win-win compromise--one that could have provided some relief to the auto industry, while ensuring that the bulk of the climate change reduction benefits of the existing policy stayed in place.
By moving recklessly and incompetently as they have in their failed effort to do away with Obamacare, the Trump Administration will likely only succeed in creating uncertainty and come away with little concrete policy success even if it is defined in their own terms.
The rule-making process does leave time for a principled compromise still to be achieved. But it will take a fundamental change in approach by President Trump--one that is focused on actually governing. While as the old cliché goes hope springs eternal, I am not holding my breath.
Rob Horowitz is a strategic and communications consultant who provides general consulting, public relations, direct mail services and polling for national and state issue organizations, various non-profits and elected officials and candidates. He is an Adjunct Professor of Political Science at the University of Rhode Island.