Former Patriots Receiver Randy Moss Elected to Pro Football Hall of Fame
Sunday, February 04, 2018
GoLocalWorcester Sports Team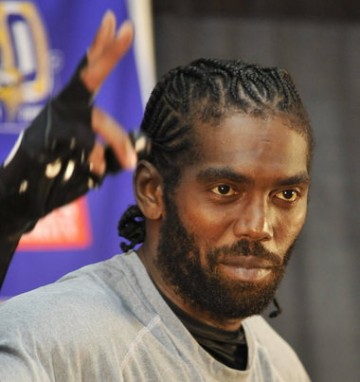 Randy Moss
Former
New England Patriots
wide receiver Randy Moss has been elected to the Pro Football Hall of Fame.
Moss was elected in his first year of eligibility.
Moss in New England
Moss played for the Patriots for just over three seasons and totaled 259 catches for 304 yards and 50 touchdowns.
In 2007, Moss set the single-season record for receiving touchdowns with 23.
He helped the Patriots to an undefeated regular season and a Super Bowl appearance, in which the Patriots lost to the Giants.
The Patriots traded Moss to Minnesota during the 2009-2010 season.
Moss' Career
Moss was drafted by the Minnesota Vikings in 1998 and played 14 seasons for five teams.
He finished his career with 982 receptions for 15,292 yards and 156 touchdown catches, ranking him second all-time behind 49ers legend Jerry Rice.
In 15 career playoff games, Moss hauled in 54 catches for 977 yards and ten touchdowns.
Moss made two Super Bowl appearances during his career, one with the Patriots in 2007 and one with the San Francisco 49ers in 2012.
2018 Hall of Fame Class
The rest of the 2018 Hall of Fame class includes Brian Urlacher, Ray Lewis, Brian Dawkins, Terrell Owens, Jerry Kramer, Robert Brazile and Bobby Beathard.
Urlacher was drafted in 2000 and played all 13 seasons with the Chicago Bears. In his career, he racked up 41.5 sacks, 22 interceptions, 12 forced fumbles, and two touchdowns.
Lewis was drafted in 1996 by the Baltimore Ravens and played there his entire 17-year career. Lewis won two Super Bowls and was named the NFL's Defensive Player of the Year on two occasions.
Dawkins was drafted by the Philadelphia Eagles in the second round of the 1996 NFL Draft, and played thirteen seasons for Philadelphia. He finished his career by playing his final three seasons with the Denver Broncos.
Owens was selected in the third round of the 1996 NFL Draft by the San Francisco 49ers. He was traded to the Philadelphia Eagles in 2004 and helped them get to the Super Bowl. Two years later, he was released and signed by the Dallas Cowboys, where he was released in 2009. He finished his career by playing for the Buffalo Bills and Cincinnati Bengals in 2009 and 2010, respectively.
Kramer played 11 seasons in the NFL as an offensive lineman with the Green Bay Packers. He helped the Packers win two Super Bowl championships.
Brazile was a linebacker for the Houston Oilers from 1975 to 1984. He was voted to the Pro Bowl seven times and was named the NFL's Defensive Player of the Year in 1975.
Beathard led four different teams to Super Bowl appearances as General Manager, winning four championships. The teams included the Kansas City Chiefs, Miami Dolphins, Washington Redskins and San Diego Chargers.
Former Patriots cornerback Ty Law was left off the list for the second straight year.
�������� LEGEND!! RT @LacesOutShow: Randy Moss. 1st ballot Hall of Famer. Don't ever let the next generation forget how good he was. pic.twitter.com/gU2AqDH3gl

— iBspeakinfacts (@speakinfactz) February 4, 2018
Hall of Fame, Class of 2018: Randy Moss, Brian Urlacher, Ray Lewis, Brian Dawkins, Terrell Owens, Jerry Kramer, Robert Brazile and Bobby Beathard.

— Adam Schefter (@AdamSchefter) February 3, 2018
Fell short this year for the 2018 HOF class but very appreciative and humbled to be apart of the conversation and consideration congrats to the 2018 class, well deserved!!! #HOF2018

— Ty Law (@OfficialTyLaw) February 3, 2018
#20

September 19, 1971

Patriots 20, Raiders 6

In only their second season in the NFL, the Boston Patriots became the New England Patriots and earned their first win under their new name against the Raiders.

Oakland took an early 6-0 lead but New England quarterback Jim Plunkett led the Patriots to 20 straight points and the win.

The Patriots finished the season 6-8.

Photo courtesy of Pinterest

#19

October 10, 1993

Patriots 23, Cardinals 21

Patriots rookie quarterback Drew Bledsoe won his first game as a professional, going 8 for 17 for 85 yards and one touchdown pass to Ben Coates.

Bledsoe went on to play 8 seasons as a starter for the Patriots and is in the Patriots Hall of Fame.

#18

December 12, 1982

Patriots 3, Dolphins 0

The snow plow game.

The game was played at Schaefer Stadium and Patriots kicker John Smith called on snowplow operator Mark Henderson to clear a spot on the field so that he could kick the game winning field goal.

The Patriots went 5-4 that season and lost in the wild card round of the playoffs.

One of the most memorable and famous games in Patriots history. The snow plow is in the Patriots Hall of Fame.

Watch it below.

#17

September 30, 2001

Patriots 44, Colts 13

Just one week after Drew Bledsoe went out with injury and Patriots fans thought the season was over, backup quarterback Tom Brady came in and helped New England to a 44-13 win over Peyton Manning and the Colts.

This was the first meeting between the two quarterbacks, who would go on to form one of the greatest rivalries in the NFL and in sports.

Brady completed 13 passes for 168 yards in the game.

The Tom Brady era was under way.

#16

December 29, 2007

Patriots 38, Giants 35

The Patriots beat the Giants at the Meadowlands to go 16-0 on the season.

The game saw both Tom Brady and Randy Moss break records for touchdown passes thrown and touchdown receptions.

The Giants played the Patriots tough, turns out, that would be a sign of things to come a few weeks later.

#15

December 4, 2016

Patriots 26, Rams 10

Tom Brady became the winningest quarterback of all-time with the Patriots 26-10 win over Los Angeles.

The win was the 201st of Brady's career moving him past Peyton Manning in the record books.

#14

October 5, 2014

Patriots 43, Bengals 17

This game felt like one of those games in a season where a loss can send a team in a bad direction and a win would do the opposite.

The Patriots were 2-2 and coming off a 41-14 blowout loss to Kansas City. That week was a long one as national media outlets and fans were calling for the end of the Patriots season and the end of the Brady era.

The Patriots put all of that talk to rest by blowing out Cincinnati on Sunday Night Football.

#13

2003 AFC Divisional Round

Patriots 17, Titans 14

On their road to another Super Bowl, the Patriots had to survive a real tough game against the Tennessee Titans in one of the coldest games in Patriots history. It was 4 degrees.

The Patriots won the game on an Adam Vinatieri 46 yard field goal and then came up with a defensive stop to advance to the championship round.

#12

2014 AFC Divisional Round

Patriots 35, Baltimore 31

The New England Patriots had a tough divisional round opponent in the Baltimore Ravens. The Ravens had just beat New England in the AFC title game two years before at Gillette.

For the majority of the game, it was not looking good for Patriots.

But a Julian Edelman touchdown pass to Danny Amendola sparked the crowd and the team and the Patriots would come back from down 28-14 to win the game.

See the play that sparked the comeback.

#11

2004 AFC Divisional Round

Patriots 20, Colts 3

For the second straight season, the Patriots and Colts met in the playoffs, this time in the divisional round. For the second straight season, the Patriots would win.

New England was up 6-3 When Tom Brady found David Givens in the endzone to put the Patriots up 13-3. Brady would get into the endzone himself to give the Patriots their winning margin.

#10

2001 AFC Championship Game

Patriots 24, Steelers 17

After the epic snow bowl game against Oakland, the Patriots went to Pittsburgh and beat the Steelers in the AFC title game.

What is easy to forget is that Tom Brady actually got hurt in this game, and it was Drew Bledsoe who came in to save the day. Bledsoe threw a touchdown pass to David Patten to put the Patriots up 14-3 before half.

Relive the action below

#9

2003 AFC Championship

Patriots 24, Colts 14

The first playoff meeting between Tom Brady and Peyton Manning came down to Manning throwing 4 interceptions, 3 of which went to Ty Law, the other to Rodney Harrison.

The Patriots led 15-0 at the half on a Brady touchdown pass to David Givens and then two Adam Vinatieri field goals and a safety.

#8

2004 AFC Championship Game

Patriots 41, Steelers 27

The Patriots were looking to get to their third Super Bowl in four years and to do it they beat Pittsburgh in the AFC Championship in Pittsburgh.

New England got touchdown catches from Deion Branch and David Givens, as well as an interception return by Rodney Harrison and led 24-3 at the half.

The night before the game, quarterback Tom Brady was bed ridden with a temperature of 103. Brady ended up throwing for 201 yards and two touchdowns.

Photo courtesy of Jeff Beall/flickr

#7

1996 AFC Championship

Patriots 20, Jaguars 6

The Bill Parcells coached Patriots hosted the AFC Championship game at Foxboro Stadium in 23 degree weather and defeated the Jacksonville Jaguars to advance to the Super Bowl.

Curtis Martin got the Patriots on the board with touchdown and then New England added a bunch of field goals and sealed the game on a Otis Smith fumble return for a touchdown.

The Patriots ended up losing the Super Bowl, however, this team and this playoff run served as a prelude to what was coming a couple of years later.

The game featured a power outage just as Vinatieri was lining up a field goal. See below.

Anyone else miss those jerseys?

#6

1985 AFC Championship

Patriots 31, Dolphins 14

For the first time since 1969 the Patriots beat the Dolphins in Miami and advanced to their first Super Bowl in franchise history.

New England's roster consisted of players such as Andre Tippet, Irving Fryar, Steve Grogan and Mosi Tatapu.

The Dolphins were led by quarterback Dan Marino.

Prior to this season, the Patriots made the playoffs just one time in 5 years.

Relive Part of That Game Below

#5

AFC Divisional Round

Patriots 16, Oakland 13

Yes, the tuck rule game, the snow bowl. If it wasn't for a Patriots win in this game, the first Super Bowl does not happen and we can only speculate as to what it would mean for the franchise going forward.

Adam Vinatieri kicked two field goals in the driving snow, the first to tie the game, and the second to win the game in over time.

Relive The Game Below

#4

Super Bowl XXXVIII

Patriots 32, Panthers 29

In a high scoring affair, 37 points total in the 4th quarter, it was Adam Vinatieri who gave the Patriots a 32-29 win on a 41 yard field goal with 4 seconds left.

The Patriots bounced back from missing the playoffs the season before to win their second Super Bowl in franchise history and the second in three years.

Tom Brady was named Super Bowl MVP.

Relive the Game Below

#3

Super Bowl XXXIX

Patriots 24, Eagles 21

The New England Patriots were crowned dynasty after beating the Eagles, winning their third Super Bowl in 4 seasons.

Rodney Harrison sealed the win with an interception of Donovan McNabb and Adam Vinatieri had another clutch field goal to extend the Patriots lead to 24-14 in the 4th quarter.

Deion Branch was named Super Bowl MVP.

Relive the Game Below

Photo courtesy of Wikipedia

#2

Super Bowl XLIX

Patriots 28, Seahawks 24

This win cemented the legacy of Tom Brady and Bill Belichick, 4 Super Bowl rings in 6 Super Bowl appearances.

A loss would have made Brady and Belichick 3-3 in Super Bowls and losers of three straight. This win was monumental for the legacy of Brady, Belichick and the Patriots.

Rookie cornerback Malcolm Butler picked off Seahawks quarterback Russell Wilson on the one yard line to seal the Patriots fourth Super Bowl.

Prior to that, the Patriots trailed by 10 points, 24-14, in the fourth quarter before Tom Brady led the Patriots offense to 14 straight points, hitting Julian Edelman for the game winner.

Tom Brady was named Super Bowl MVP.

Relive Malcolm Butler's Heroics Below

#1

Super Bowl XXXVI

Patriots 20, Rams 17

Nothing beats the first time, and the Patriots won their first Super Bowl by beating the Rams in New Orleans on a kick by Adam Vinatieri.

The most memorable part of this game, other than the kick, was Tom Brady spiking the ball, catching it with one hand and giving it to the ref like "yea, game over."

Tom Brady was named Super Bowl MVP.

Relive the final drive below